The historical mining city of Broken Hill is located in New South Wales. This is a major destination for tourists who are interested in the history and culture of this part of the world and there are plenty of places to spend the night here. Broken Hill camping is a popular option with people who want to get back to nature and discover some of the things that make this area so special. Taking a mining tour is one of the most popular things to do in Broken Hill, while nature lovers are sure to enjoy spending time exploring the picturesque Imperial Lake Reserve.
Pet Friendly Caravan Parks in Broken Hill
People who are travelling with their faithful four legged friend will find a good selection of pet friendly caravan parks Broken Hill to choose from. Here is one of the best options: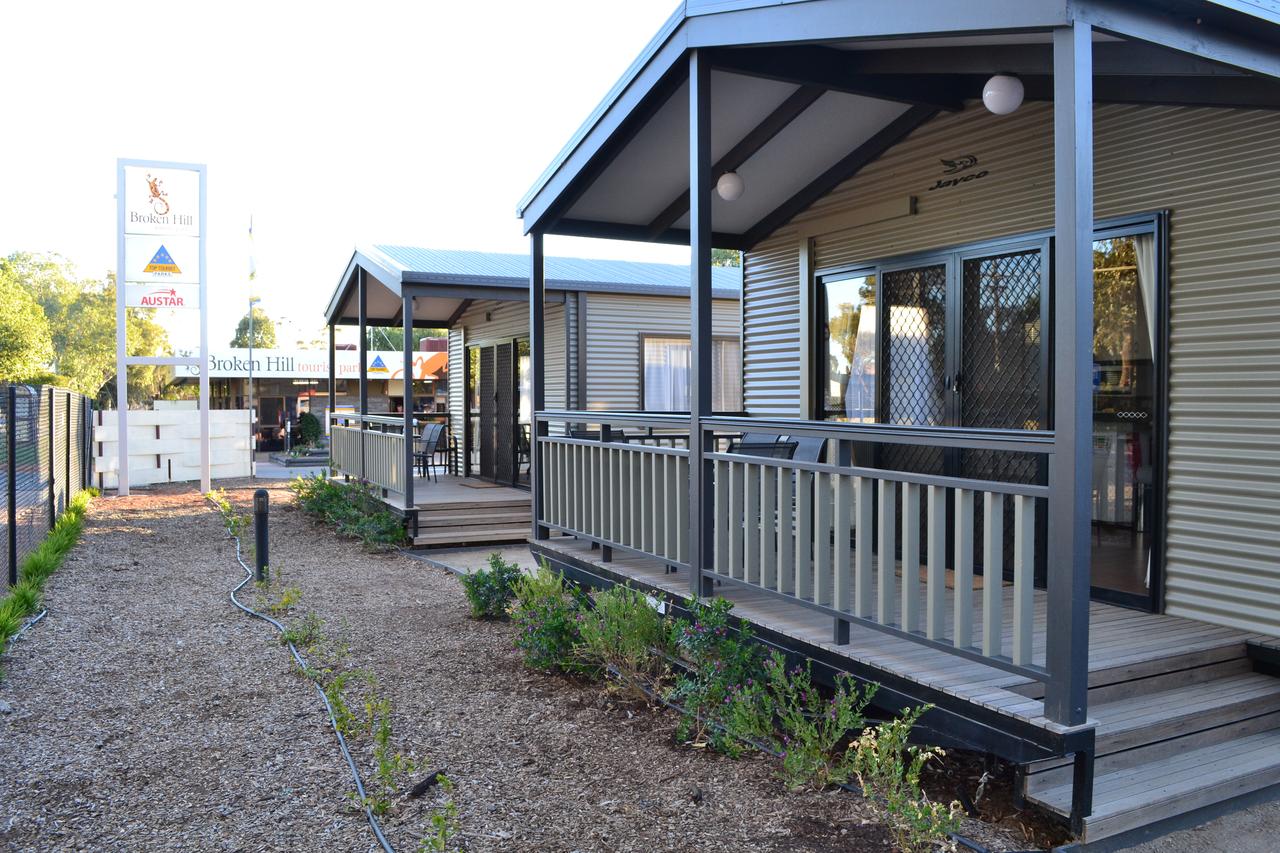 This award winning holiday park boasts a large collection of modern caravans that provide plenty of space for the whole family. The setting on 142 Rakow Street makes it possible to drive to Brown Hill town centre in just five minutes, while onsite facilities include a large children's playground and a covered BBQ area as well as modern laundry and washing facilities.
You can learn more about Broken Hill Tourist Park here.
2. Lake View Caravan Park
Located three kilometres away from the town of Broken Hill, you will find the surrounding campsites and natural beauty a good backdrop to take the dog for a stroll. Stay here and choose between a fully self-contained cabin, as well powered or unpowered sites. Please remember to enquire about your pets as you place your booking.
Pet Friendly Motels in Broken Hill
Staying in a motel is a great option for families who want to be able to enjoy all the comforts of home while having easy access to making and plenty of amenities at their fingertips.
1. Desert Sand Motor Inn
Boasting a large indoor swimming pool and barbecue area, this is the perfect place for guests to unwind after a busy day exploring all that Broken Hill has to offer. This leading motel also features a large outdoor swimming pool where guests can soak up the sun while admiring the pretty garden setting, while each modern motel room features a large bathroom and flat screen television with plenty of personal touches for guests to enjoy.
You can learn more about Desert Sand Motor Inn here.
2. Sturt Motel
Located conveniently close to many of Broken Hill's top attractions as well as the airport, this modern motel can be found on Rakow Street and offers twenty different air conditioned rooms for guests to choose from. Each room comes with its own fully loaded kitchenette and digital television, while guests can keep cool by splashing around in the large outdoor swimming pool that is set in a pretty garden.
You can learn more about Sturt Motel here.
3. The Argent Motel
Each spacious room on this stylish property opens out onto a large garden where dogs can run around and let off a little steam. A pretty patio area can be found outside each room so that guests can watch the sunset in the early evening, while the rooms themselves feature large and comfortable beds, separate seating area and modern bathrooms.
You can learn more about The Argent Motel here.
Pet Friendly Cottages in Broken Hill
Staying in a charming Australian style cottage is a great option for people who are looking for Broken Hill accommodation with dogs. A large number of different Broken Hill cottages are pet friendly and come with both private and shared amenities for guests to make use of.
This collection of cosy cottages can be found at 341 Williams Street and are set in a pretty garden area where guests will find a bar, and restaurant and a barbeque area. There are two and three bedroom cottages to choose from with full modern kitchens and comfortable furnishings throughout.
You can learn more about Emaroo Cottages here.
Located on 91-93 Mica Street just a short stroll from Broken Hill Visitor Information Centre, these fully furnished cottages are ideal for families who are looking for a home away from home while exploring Broken Hill and each cottage comes complete with a grass backyard for dogs to run around in.
You can learn more about Silver City Cottages here.
Conveniently located on 18699 Barrier Highway, these stylishly decorated cottages offer guests free parking and the chance to soak up enchanting views of the surround bush land from the comfort of their spacious patios. Each self catering cottage is fully loaded with modern conveniences such as air conditioning, flat screen televisions and large modern kitchens where families can have fun preparing home cooked meals.
You can learn more about Gum Paddock Country Cottage here.
These charming country heritage cottages are located on Piper Street, which is just a short stroll from Broken Hill's main shopping district and tourist attractions. Guests are sure to love unwinding in the candlelit spa and soaking up the sun in the large garden while joining other guests for a BBQ is a great way to meet new people.
You can learn more about A Miner's Rest here.
People who are looking for pet friendly accommodation Broken Hill are sure to love staying at Ay's Cottage. Guests will be able to soak up the serenity of Broken Hill's suburbs in a pretty setting, while those who want to get back into the swing of things will be able to walk on over to the impressive South Broken Hill Golf Course and Railway. Each cottage is fully decorated and furnished in a charming style and comes complete with air conditioning and other modern amenities.
You can learn more about Aly's Cottage here.
Located just a ten minute walk from the downtown area of Broken Hill, each cottage features three spacious and fully decorated bedrooms as well as a laundry area and a cosy space where guests can unwind at the end of the day and catch their favourite Australian soap opera on the flat screen television. Cottages also come with large kitchens where guests can prepare their own meals and a well kept private backyard where dogs and young children can run around.
You can learn more about Away Cottages here.
Up to five guests can stay in comfort and style in The Pool House and there are three separate bedrooms here as well as modern laundry and cooking facilities. One of the main highlights here is the large outdoor swimming pool that is set in the spacious grounds and comes complete with a shallow area for young children to splash around in.
You can learn more about The Pool House here.
This stylish cottage features two bedrooms with a king sized bed and two large single beds, which makes this the ideal accommodation option for families. A secure outdoor area is provided especially for the family pooch, which the furnishings and other creature comforts here are both modern and luxurious.
The owners have been known to allow pets to stay here on request.
You can learn more about Outback Church Stay here.
9. Betty's Cottage
The huge combined country style dining room and kitchen is sure to appeal to those who are looking for a place to call home while they are on holiday. There are three large beds set in two bedrooms as well as a comfortable living room to unwind in, while the spacious balcony provides an extra space to simply sit and take in the scenery.
You can learn more about Betty's Cottage here.
10. Miffy's Cottage
Creating tasty meals for the whole family to enjoy while on holiday will be easy here thanks to the large and very modern kitchen. In addition to the traditional dining area, guests can also enjoy al fresco dining if they wish on the large patio that is set with a table and several chairs, while the garden is a great place to play or simply soak up the sun for a while.
You can learn more about Miffy's Cottage here.
11. Broken Hill Outback Church Stay
Dog friendly accommodation Broken Hill doesn't get much more stylish than this and the whole family will be able to enjoy the unique experience of staying in a large renovated church, which can be found on Patton Street. Each room here comes complete with a private bathroom as well as a comfortable lounge area set with a flat screen television and a spacious balcony where guests can unwind while enjoying this unique and very atmospheric setting. A hot tub and barbecue area can be found on the site, while taking a stroll through the church grounds is an enchanting experience.
You can learn more about Broken Hill Outback Church Stay here.
12. About Town Cottages.
About Town Cottages is located within a 5-minute walk of Silver City Mint and Art Centre .All units at About Town Cottages have a fully equipped kitchen with an oven, kettle, and a microwave. Some units are air conditioned and include a seating and/or dining area.
You can learn more about About Town Cottages here.
13. Cottage at Willyama
Cottage at Willyama is located within an 8-minute walk of Pro Hart Gallery. This two-bedroom house offers accommodation with air conditioning and a fully equipped kitchen, a barbecue. You can also relax in the garden.
You can learn more about Cottage at Willyama here.
Similar to the other offerings from the Emaroo management team, this one is located on Argent Street and features three bedrooms. Dogs are fine, as long as you've put in a request beforehand, so don't forget to contact the owner as you make your booking.
You can learn more about Emaroo Argent Cottage here.
This one is really handy for people who are planning to come into town via the Outback Explorer, as it's only two minutes drive from Broken Hill train station. Please note that the only animals allowed on the Great Southern Rail service are service animals, such as dogs for the vision and hearing impaired.
You can learn more about Emaroo Oxide Cottage here.